Painting the Great American West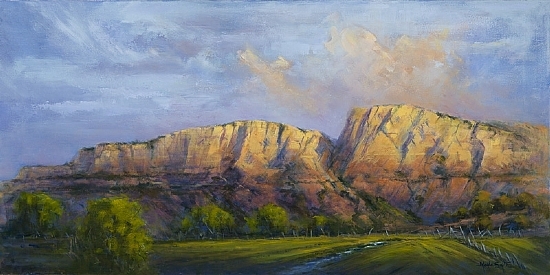 Marla was born in Prescott, Arizona. The beautiful Southwest where she grew up has always been close to her heart, and she spent much of her youth exploring, hiking, and riding.

Being raised in a rural setting and enjoying the freedom that I had to roam, instilled in me a deep and lasting love of the land. I was always fascinated by the beautiful landscapes that surrounded me, and even though art was not a part of my life then, perhaps in some way , I knew there would be a time that I would capture some of this beauty in some manner whether it be art or photography. I truly believe that it's important to paint from your heart, paint what you know and love, what inspires you. My goal as an artist is to convey to the viewer the same feelings of joy, and beauty that I feel when I experience these fleeting moments of a beautiful thunderhead cloud, the first or last light of the day, a hushed, peaceful morning, or a glorious Southwest sunset. I am so grateful for the privilege of living where I do, I simply need to look out my window, or sit on my porch with my morning coffee, to derive inspiration for my next painting.